Joy Montgomery is back again this month for another session of Career Management! If you have any questions about careers in technical writing or need help preparing your resume or portfolio, please feel free to drop by!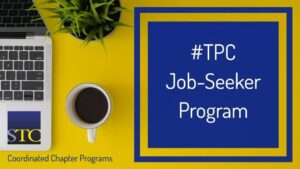 The one hour session will take place from 6-7 pm Pacific Time on Monday, November 8th. The following zoom link can be used to access the meeting:
https://us02web.zoom.us/j/81014089150
These sessions will be held at the same time on the second Monday of each month for the rest of this year at least. We highly encourage you to come by when you can. Thank you again to Joy for her efforts in making this program possible!
Find STC SF Bay on Social Media Here: